Welcome to Blue Devil Consulting
Blue Devil Consulting is managed by Paul Foreman as Director and Senior Botanist/Ecologist, and has a reputation for high quality, reliable, accurate, creative and innovative work.
Kylie Stafford facilitates business management and administration.
The business was established in May 2009 to provide specialist botanical, vegetation management, strategic planning and biodiversity conservation services primarily in central and northern Victoria, and further afield (including interstate) as opportunities arise.
The Blue Devil Consulting logo is inspired by Blue Devil (Eryngium ovinum), a common summer-flowering indigenous forb in natural grassy ecosystems of western and northern Victoria; emblematic of business' specialisation.
Primary Services include: Ecological education, training and workshop facilitation; Ecological impact assessment; Ecological monitoring; Grassland conservation and technical advice leadership; Landscape-scale conservation planning and land assessment; Project evaluation; Reserve establishment and management planning; Restoration management; Spatial information management for conservation; Threatened habitat and species recovery; and Vegetation assessment, description and mapping.
A Blog is currently under construction that will feature interesting news, new projects, useful links and an ideas platform.
Edgbaston Reserve, Bush Heritage Australia, Central Queensland  Typically when new reserves are acquired and established, it is important to undertake a detailed assessment and description of the key
...read more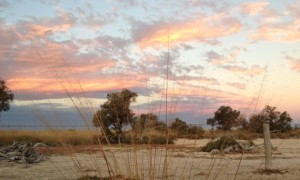 New reserve management planning Over recent decades there has been a considerable expansion of the reserve network especially targeted at state and nationally significant ecosystems and species –
...read more